How Form8949.com can help users of TaxAct
Our app can help in the following circumstances:
1. Your Broker Does Not Participate in the Tax Act Electronic Import Program
See the list of supported brokers below if your broker does not participate in the TaxAct Electronic Import program
TaxAct Electronic Import Program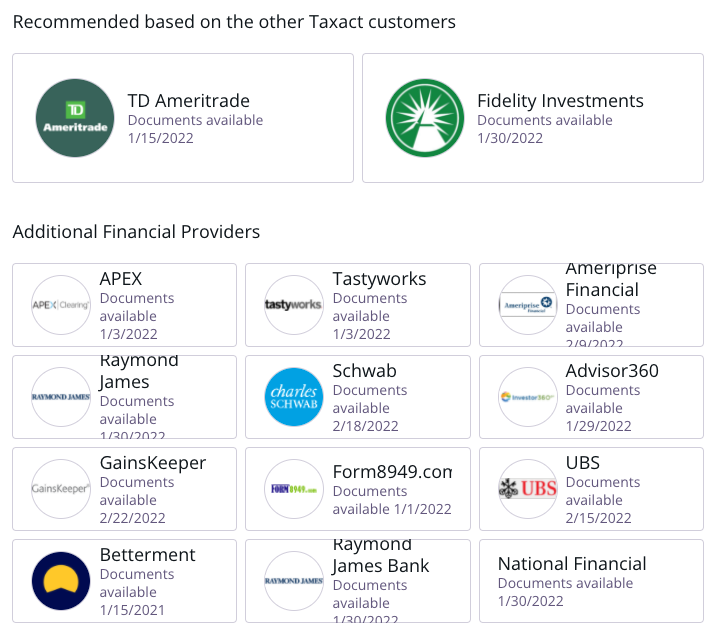 2. You have more than 2,000 transactions.
TaxAct has an import limit of 2,000 transactions. To work around this limit, our app will:
generate "summary transactions" for import and
generate statements for attachment to your tax return.
This reporting option is known as Exception 2.
3. You have a large quantity of transactions with small dollar amounts.
Tax Act rounds values to the dollar. As such, values under $.50 will round down to zero and trigger warning messages.
Also rounding differences can add up to several dollars.
Our app uses dollars and cents. You can avoid rounding errors when you choose to import from Form8949.com using the Exception 1 import option.
To use our app:
Save the time and tedium of manual data entry.
Brokers
For information specific to a broker, click on the link in the Broker Name column below.
If your broker is not listed, please email us.
If you have more up-to-date information, let us know.

As stated above, the Standard Computer-Readable Formats of FDX, OFX, XML, and TXF
are preferred over the Non-standard Formats (CSV, XLS, and PDF).