Our Goal
At Form8949.com, our aim is to help you minimize the time and expense of complying with the tax reporting requirements related to your stock trading activity.
Do you use a Tax Professional?
Save your tax preparer time and save tax preparation fees.
Use our app to retrieve your broker data and generate schedules of your capital gains and losses in PDF format.
From the app, you can be sent an email to forward to your Tax Pro with information and links to your forms generated by the app.
If your Tax Professional uses Drake Software, the above email includes a link to a downloadable spreadsheet file that can be used to import data directly into the Drake program.
If your Tax Professional uses Intuit Lacerte, Intuit ProConnect, or Intuit ProSeries software, you can deliver the statements and data you generate at Form8949.com electronically to your tax preparer thru the "Intuit Link" and tax import features.
Do you prepare your income tax return by hand?
For many taxpayers with simple returns, money can be saved by preparing Form 1040, Schedule A, and Schedule B by hand.
However, if you have more than a few brokerage transactions, it doesn't make sense to prepare Schedules D and Form 8949 by hand. For just $10, we can generate these schedules for you and save you the time and tedium of transcribing broker transaction data.
Excel Spreadsheet Conversion
We can convert your Excel spreadsheet (.xls) of realized gain and loss information to IRS Schedule D and Form 8949.
See the spreadsheet requirements page for more information including templates.
App Overview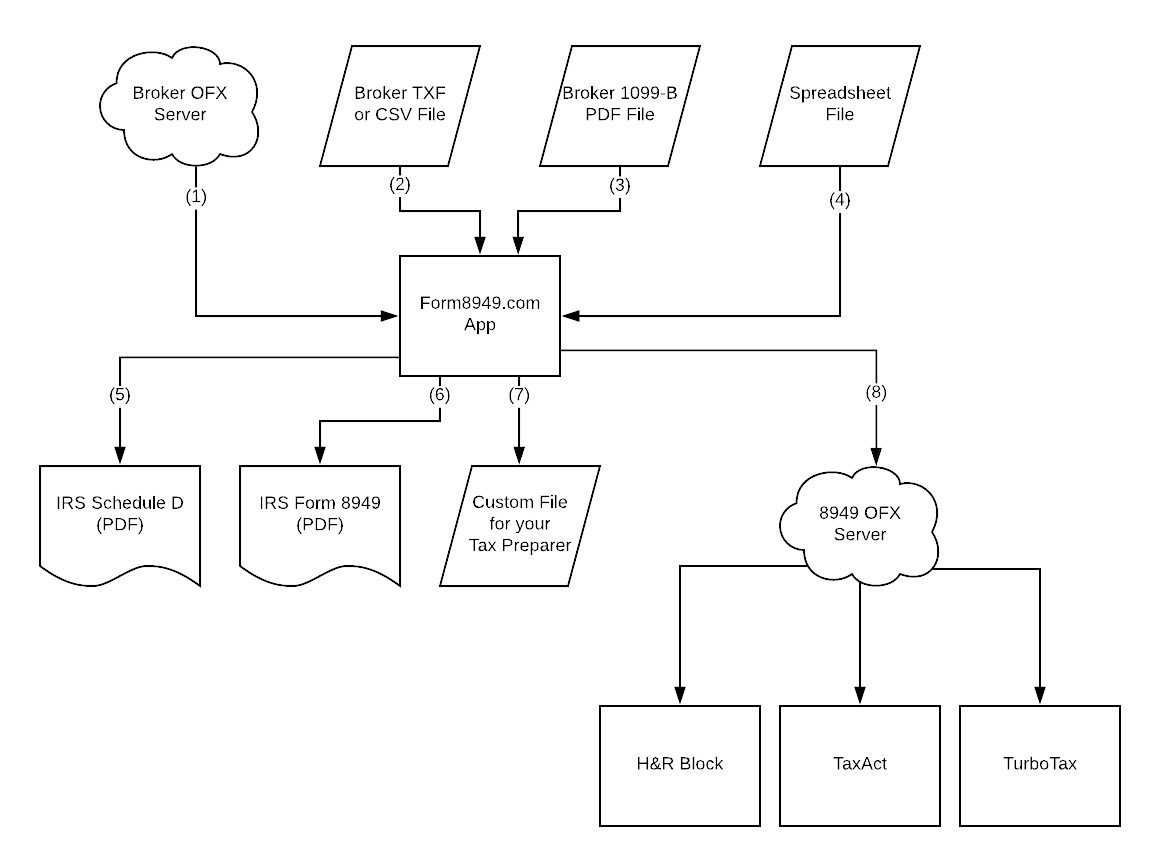 Our app (1) retrieves data from Broker OFX servers, (2) processes broker TXF or CSV files that you download from the broker web site, (3) processes broker 1099-B PDF files that you download from the broker web site, and (4) processes spreadsheet files that you create.
We generate (5) Schedule D and (6) Forms 8949 in PDF format for attachment to your tax return. We also generate (7) files you can deliver to your tax preparer for use in professional tax preparation software. Your data can also be (8) imported directly into H&R Block, TurboTax, TaxAct, and other tax software.
Tax Year 2018 App
The Tax Year 2018 app includes the following NEW features:
Processing of broker Forms 1099-B PDF files.
Processing of broker trade data files.
The app also includes the following features:
2017 and prior year Forms 8949 can be generated in the 2018 app. There is no need to go to a separate app.
Support for all 4 Schedule D and Form 8949 reporting options (see the app for details)

Traditional
Exception 1
Exception 2
Exceptions 1 and 2 Combined

Alerts for transactions missing cost information
Convenient email to forward to your Tax Pro with information and links to your forms generated by the app
Automatic "summary" tax software data import if you have more transactions than can be imported by your tax software
Email us with requests for additional program features and improvements.