Tax Year 2017 App
Our online application is built using the Angular framework. This technology allows us to run on tablets and smart phones, as well as personal computers.
The app includes the following features:
2016 and prior year Forms 8949 can be generated in the current year app. There is no need to go to a separate app.
Support for all 4 Schedule D and Form 8949 reporting options (see the app for details)

Traditional
Exception 1
Exception 2
Exceptions 1 and 2 Combined

Alerts for transactions missing cost information
Convenient email to forward to your Tax Pro with information and links to your forms generated by the app
Automatic summary import if you have more transactions than can be imported by your tax software
VERSION 2: A new version was recently released which uses a different user interface component library. It also introduces a new feature: We are adding the ability to process broker 1099-B PDF files for those brokers that do not offer OFX, TXF, or CSV files.
Email us with requests for additional program features and improvements.
TaxAct Users
If your broker does not participate in the TaxAct electronic import program, we can help.
Use our app to retrieve your broker data.
After you review your data and pay for our data processing services, we'll provide you with a "File Number" and "Passcode" with which you can import your data into TurboTax.
See TaxAct Import Steps for TaxAct Import details.
Do you use a Tax Professional?
Save your tax preparer time and save tax preparation fees.
Use our app to retrieve your broker data and generate schedules of your capital gains and losses in PDF format.
New This Year: From the app, you can be sent an email to forward to your Tax Pro with information and links to your forms generated by the app.
New: If your Tax Professional uses Drake Software, the above email includes a link to a downloadable spreadsheet file that can be used to import data directly into the Drake program.
If your Tax Professional uses Intuit Lacerte, Intuit ProConnect, or Intuit ProSeries software, you can deliver the statements and data you generate at Form8949.com electronically to your tax preparer thru the "Intuit Link" and tax import features.
App Overview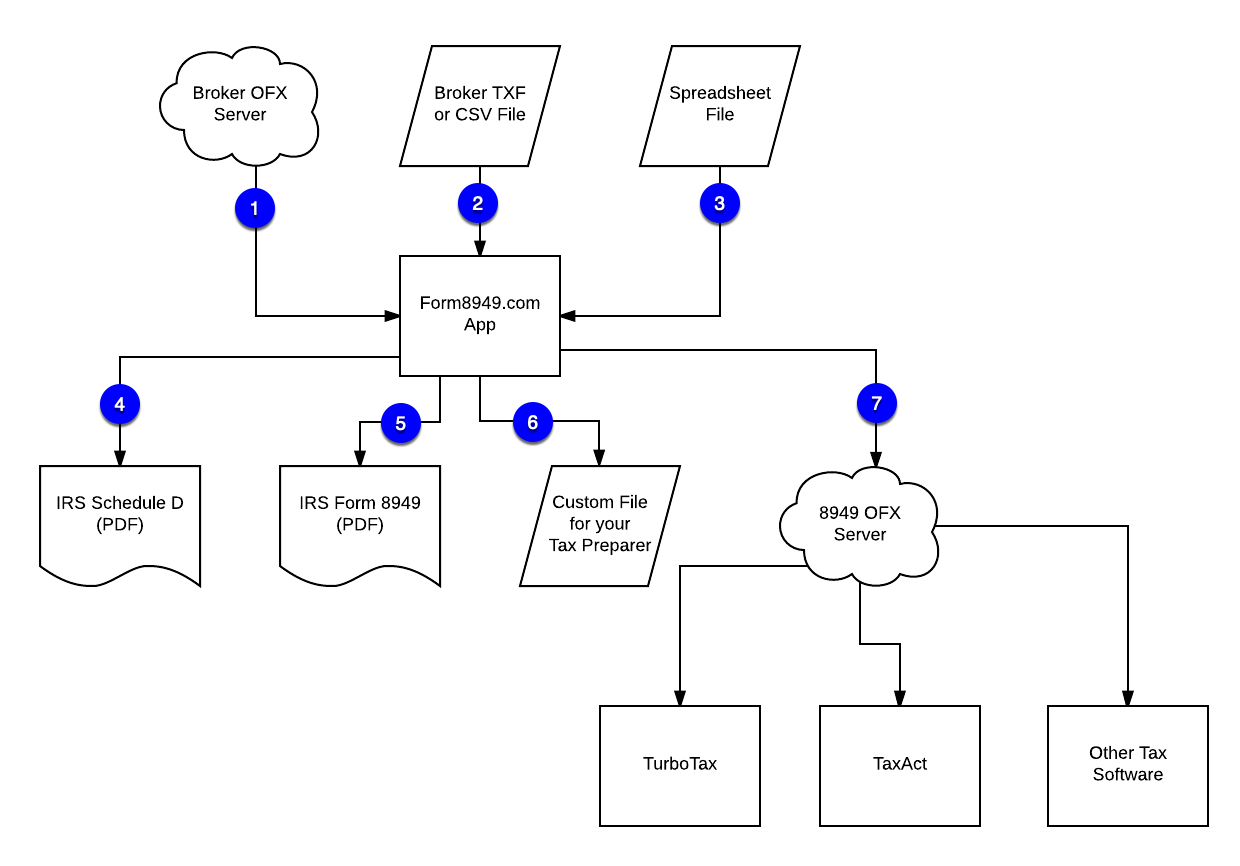 Our app (1) retrieves data from Broker OFX servers, (2) processes broker TXF or CSV files that you download from the broker web site, and (3) processes spreadsheet files that you create.
We generate Schedule D and Forms 8949 in PDF format for attachment to your tax return. We also generate files you can deliver to your tax preparer for use in professional tax preparation software. Your data can also be imported directly into TurboTax, TaxAct, and other tax software.
Active Traders Using TurboTax
Do you use TurboTax Online and have more than 500 transactions ? or more than 2,000 transactions and use TurboTax Desktop Editions ? We can help.
See our special solution for TurboTax users for more information.
Do you prepare your income tax return by hand?
For many taxpayers with simple returns, money can be saved by preparing Form 1040, Schedule A, and Schedule B by hand.
However, if you have more than a few brokerage transactions, it doesn't make sense to prepare Schedules D and Form 8949 by hand. For just $10, we can generate these schedules for you and save you the time and tedium of transcribing broker transaction data.
Active Traders Using TaxAct
If you have more than 2,000 transactions, use our site to generate Form 8949 Statements for attachment to your tax return.
See TaxAct Statement Attachment Steps for more information.